You May Qualify For A
FreeStyle Libre or Dexcom G7
Continuous Glucose Monitoring System
For qualified persons with eligible co-insurance and subject to CGM coverage requirements. Deductibles, co-pays, and other conditions apply. Speak to a NowRPM representative and your insurance company to confirm your coverage and costs
NowRPM is proud to provide FreeStyle Libre 2 and 3 System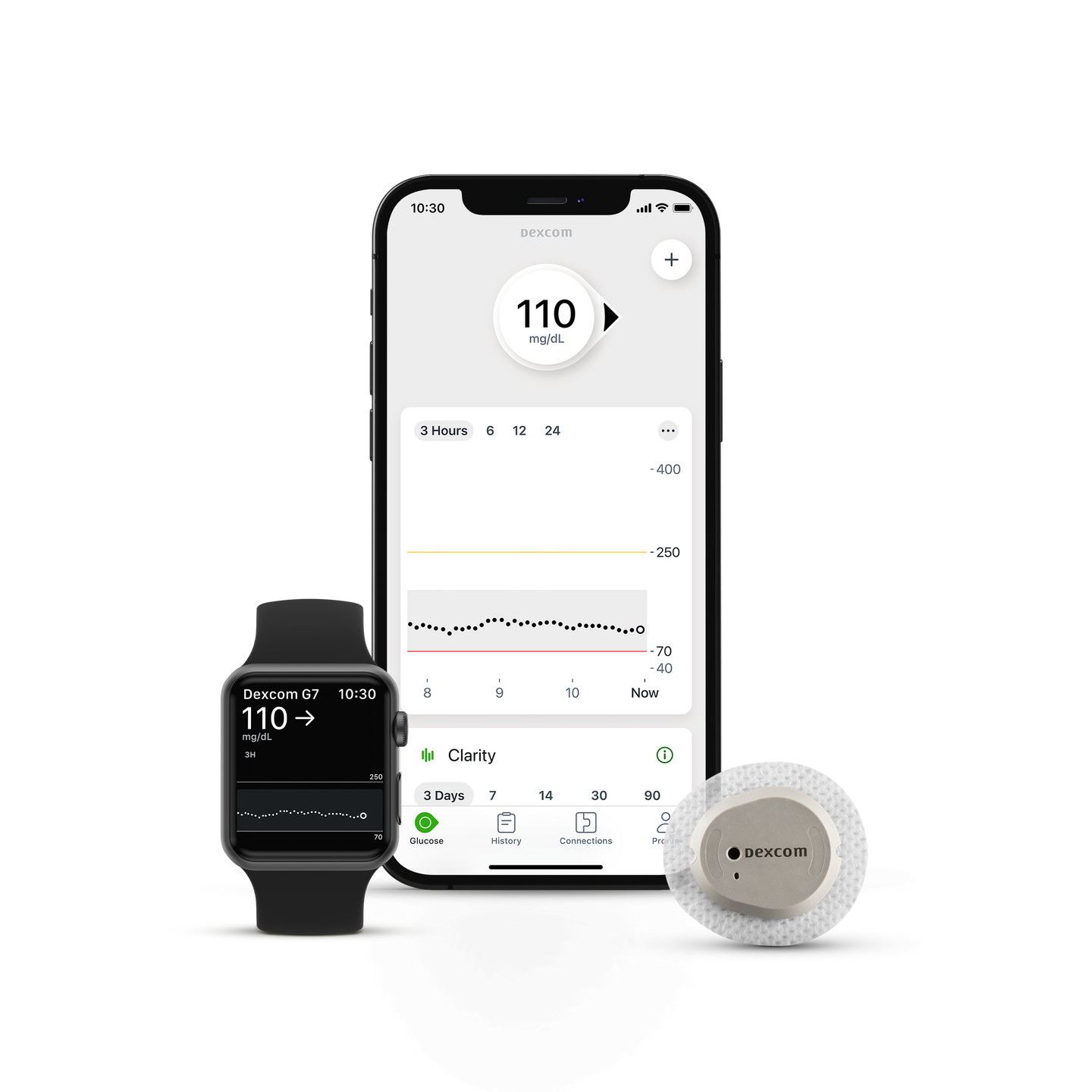 An easier way to manage diabetes without fingersticks

†
Dexcom G7, the simple CGM system, delivers real-time glucose numbers to your smartphone
*
or smart watch
‡
-no fingersticks required.
†
Effortlessly see your glucose levels and where they're headed, so you can make smarter decisions about food and activity in the moment to take better control of your diabetes.
†Fingersticks required for diabetes treatment decisions if symptoms or expectations do not match readings.

Smart device sold separately.*
Reduce or Eliminate Fingersticks1 

and Have Better Control of Your Diabetes With a FreeStyle Libre CGM or Dexcom G7 System
Accurate

Check your glucose levels up to 1,440 times per day
Provide your doctor with more data to adjust your treatment and make better decisions



Convenient
Manage your glucose levels before they spike too high or drop too low
Understand how meals, exercise, and illness impact your blood glucose levels
User-friendly

Share your glucose data with your doctor, family member, or care taker remotely
Track your glucose levels during the middle of the night quickly and easily
1Fingersticks may still be required for diabetes treatment decisions, or if your readings do not match symptoms or alarms. 
NowRPM Is Your Preferred Distributor For FreeStyle Libre or Dexcom G7 Continuous Glucose Monitoring Systems.
Our white-glove service offers an easy and hassle-free way for you to order your diabetes supplies.
Free Insurance Benefits Check Approval

We Coordinate With Your Physician & Insurance
We File The Claim For Your Medical Supplies

We Ship 90 Days of Supplies

Free Shipping and Easy Reordering System

NowRPM is Accredited by the Better Business Bureau.
100% Satisfaction Guaranteed §
Free shipping delivered right to your door.
NowRPM is Accredited by the Better Business Bureau.
Diabetes specialists ready to answer your questions.
Contracted with over 500 national private insurance plans.
See If You Qualify for a FreeStyle Libre or Dexcom G7 Continuous Glucose Monitor System
*Use a blood glucose meter to confirm any highs or lows and when your symptoms do not match your sensor's readings.
**In a trial where Dexcom G6 powered the Tandem hybrid closed-loop system with Control-IQ, participants with T1D increased their time in range (TIR) by an average of 2+ hours per day. - Kovatchev B, et al. N Engl J Med 2019;381(18):1707-17. Individual results may vary.
†Reduction of A1C by 1.0% for Patients with T1D. Dexcom CGM System users on a multiple daily injections (MDI) insulin regimen showed an average A1C reduction of 1% after 24 weeks of regular use, compared to baseline. Additionally, 52% of subjects in the study had a ≥1% A1C reduction. Beck RW, et al. JAMA. 2017;317(4):371-378. Significant A1C reduction for patients with T2D on mealtime insulin achieved an average 1.5% A1C reduction after using Dexcom G6 for 12+ weeks. Noar A, et al. A1C reductions and improved patient-reported outcomes following CGM initiation in insulin-managed T2D. Presented at ADA 80th Scientific Sessions; June 12, 2020; Virtual. Individual results may vary.
‡Check glucose levels up to 1,440 times per day on the FreeStyle Libre 2 System
¹For qualified persons with applicable in-network insurance and subject to CGM coverage requirements. Deductibles, co-pays, and other conditions apply. Speak to a NowRPM representative and your insurance company to confirm your coverage and costs. CGM devices have safety requirements, warnings, and instructions. Consult the manufacturer websites for details. Seek medical advice and attention when appropriate, including for any medical emergency.
§ Satisfaction Guarantee is for NowRPM services. Products must be returned unopened within 30 days for any refunds. Other terms and conditions apply. Product warranties are provided by manufacturer and subject to their terms and conditions.
Remote Patient Monitoring
Remote Patient Monitoring (RPM) improves the care of chronically ill people.  A comprehensive solution for peace of mind for you and your family.
Daily review of results.

Daily registered nurse outreach to patients with abnormal data.

24/7 outreach by registered nurses for critical alerts as defined by providers.

24/7 hotline for inbound calls that address patient symptoms or concerns.

Daily health reminders like for your medications and glucose readings.